PhD in Management, Marketing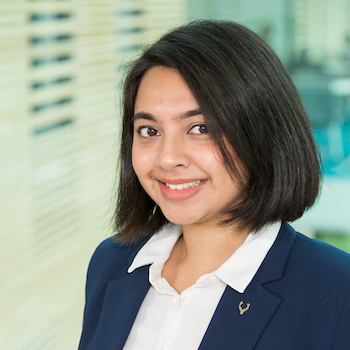 MSc in Biotechnology, (Major in Neuroscience), University of Pune, India
MBA, Business Design, Prin. L. N. Welingkar Institute of Management Development and Research, Mumbai, India
Reasons for Choosing Laurier
When selecting a graduate school, my key priorities were access to experienced and well-published faculty, alignment of interest with research cohort and nurturing academic culture – Laurier offered me all the above. My initial interaction with Dr. Tripat Gill was very encouraging and gave me the confidence that I would be able to freely pursue research of my interest at this institution. I, especially, appreciated the open mindedness of the faculty members with respect to exploring new areas of research such as consumer neurosciences.
In last few months as a new graduate student, my interactions with the faculty members have further cemented by confidence in the program. The program is designed to encourage me to explore new ideas while building strong theoretical foundations. Faculty members at Lazaridis are very approachable, supportive and are willing to invest time and effort in furthering my career as a distinguished academic researcher.
Passion for studying human behaviour was a key driving factor in choosing PhD as my next milestone, in line with this, my research interests are in the domain of consumer behaviour. Currently, I am fascinated about consumer behaviour in rapidly evolving technological environment. I am currently working with Dr. Gill on a project exploring consumer behaviour in context of autonomous vehicles.
PhD in Management, Marketing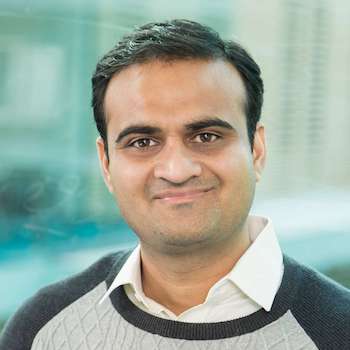 Bachelor of Engineering in Electronics and Communications, Dharamsinh Desai University
Master of Business Administration in Marketing, Gujarat University
Reasons for Choosing Laurier
I found from web pages that Lazaridis School of Business and Economics has faculty with very diverse research background in marketing such as social media, evolutionary psychology, innovation, consumer psychology, behavioural decision theory, marketing strategy, services, branding, etc.
My research interest converged with the interests of some faculty members at Lazaridis School, especially with that of Dr. Tripat Gill. When I wrote to him with my resume and SOP regarding my interest in pursuing PhD, he was very encouraging and supportive. My communication with Dr. Gill, Dr. Zhenfeng Ma, and Dr. Kalyani Menon gave me an indication that the school has a very supportive and nurturing culture for aspiring students.
These are the reasons why I felt Wilfrid Laurier University would be a right place to pursue my doctoral studies.
My broad research interest is in application of the principles of evolutionary psychology to consumer behaviour
Specifically, I am interested in understanding how ultimate evolutionary motives drive status seeking behaviours, and how product preferences and choices are shaped by evolutionary motivations.
Using dominance-prestige account of rank attainment in evolutionary psychology, my research is focussed on how different routes to achieve status differentially affect consumer behaviour.
I am also interested in understanding the effect of psychological stress on processing of advertisement messages.
*Glen Gorman (PhD., Wilfrid Laurier University), supervisor for projects on "Consumer Behavior and Marketing." (March 2014 – December 2014)
*Wonkyong Lee (PhD., University of Waterloo), supervisor for the project "Consumer Barriers to the Adoption of Counter-Stereotypical Products." (Aug. 2009 – July 2010)
*David Lewis, (Ph.D.), Wilfrid Laurier University, supervisor for thesis on "Consumer Financial Decision Making," (September 2011 – Aug. 2017)
*Gattol, Valentin, (Ph.D.), Delft University of Technology (Delft, The Netherlands), co-supervisor for thesis on "The Role of relatedness on feature addition / deletion in High- Technology Products," (June 2010 – Dec. 2013)
*Jun Wang, PhD student (PhD), Delft University of Technology (Delft, The Netherlands), co-supervisor for thesis on "The Role of Rumors and Pre-Announcements in High-Technology Innovations" (Oct 2009 – Dec. 2010)
*Floortje Wijnands (MSc.), University of Maastricht, The Netherlands, supervisor for thesis "The Effects of Actual versus Ideal Self Brand Congruence." (Aug. 2018 – Aug. 2019).
*Jessica McElhone, EMTM (MSc.) program, (Wilfrid Laurier University), supervised Master's research project (MRP), "Finding insight for co-creation in a brand fan blog: a crackberry.com case study," (Jan. 2012 – Aug. 2012).
*Belinda Martschinke (MSc.), University of Maastricht, The Netherlands, supervisor for thesis "Marketing Strategies to Overcome barriers to the adoption of Counter-stereotypical Products." (Jan. 2011 – Dec. 2011).
*Salma Aziz, (MSc.), Department of Marketing and Consumer Studies, University of Guelph, Guelph, ON, Canada, co-supervisor for the thesis "Investigating the Single Category Belief Problem in a Hybrid Product," (Nov. 2010 – Aug. 2011)
*Maren Becker (MSc.), University of Maastricht, The Netherlands, supervisor for the Thesis "Role of Brand Incumbency Status on the Perception of Convergent High-tech Products." (Jan 2009 – Aug 2010)